First-quarter progress reports are being sent home today. CES Students - by backpack HMS/HHS Students - being mailed out today The first quarter will end on Friday, October 13 Parent-teacher conferences are scheduled for October 19 *More details to follow

HHS Student Council will be set up this weekend at Wal-Mart accepting donations- Shop and drop.... it's that easy!

Summer School Reminder: K-8 students are involved in field trips each Thursday. Summer school does not dismiss until 2:00 on THURSDAYS only. If you have any questions, you may contact the following: HMS @ 870-856-3284 Bus Garage @ 870-257-0070

Is your child still needing a sports or Kindergarten physical? If so, Nurse Megan has set aside the morning of June 14th for physicals at the school-based health clinic. To get on the schedule, please call Nurse Megan at 870-847-2687.

HHS Summer School is underway! School is open from 8:00 - 3:00 Monday - Friday for students needing to recover credits due to poor grades or excessive absences. Transportation and meals are provided Monday-Thursday, and flexibility in attendance is afforded to each student depending on need. For more information about Summer School at the High School, contact Roger Nicholson at 870-856-3273.

Keep up with summer events by marking your calendar with the following dates! June 5 - 29 (M-Th Weekly) Summer School *qualifying students HMS/HHS Campuses June 5 - 29 (M-Th Weekly) Seamless Summer Feeding Program *refer to previous information sent out about locations/times Saturday, August 5 Backpack Extravaganza Location: Highland Assembly of God Church Tuesday, August 8 District Open House Location: all campuses Time: TBD Have a great summer, REBELS!

Please read this important information about the summer P-EBT benefit available to Highland students!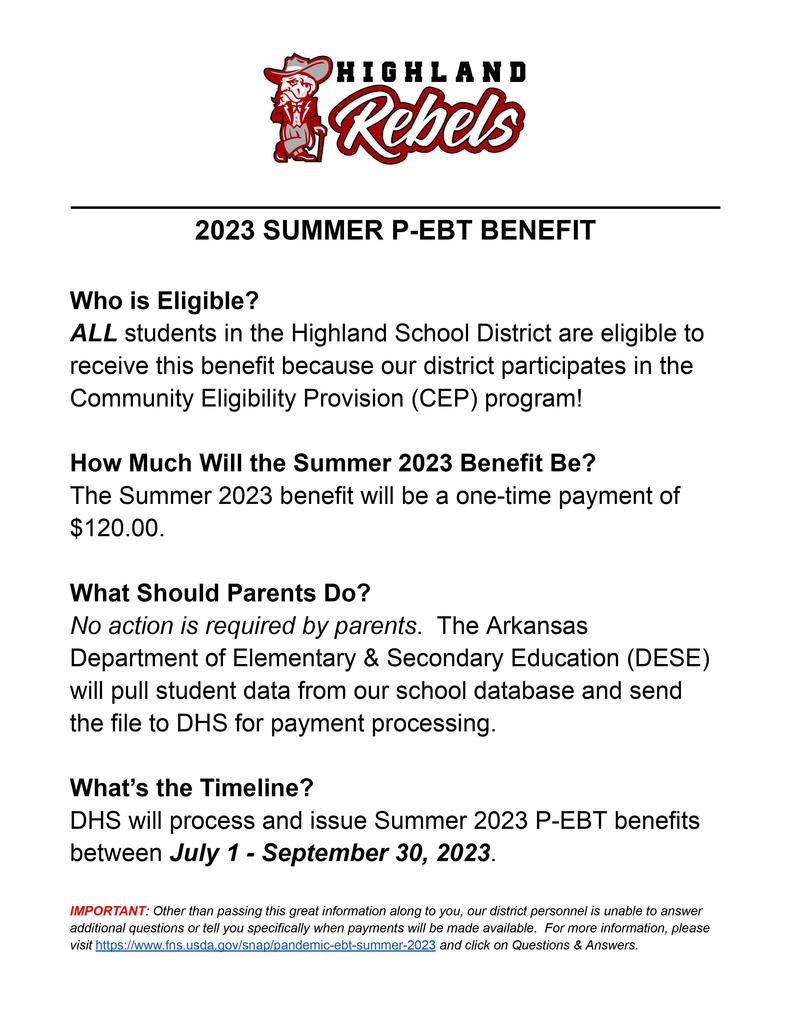 SENIORS: Graduation will be held at the A.L. Hutson Memorial Center this evening- 7pm. Please be at practice at 10am this morning at the Hutson Center.

Please join us tomorrow night as we celebrate our student artists at the 25th Annual Student Art Show, sponsored by the Hardy Timely Club.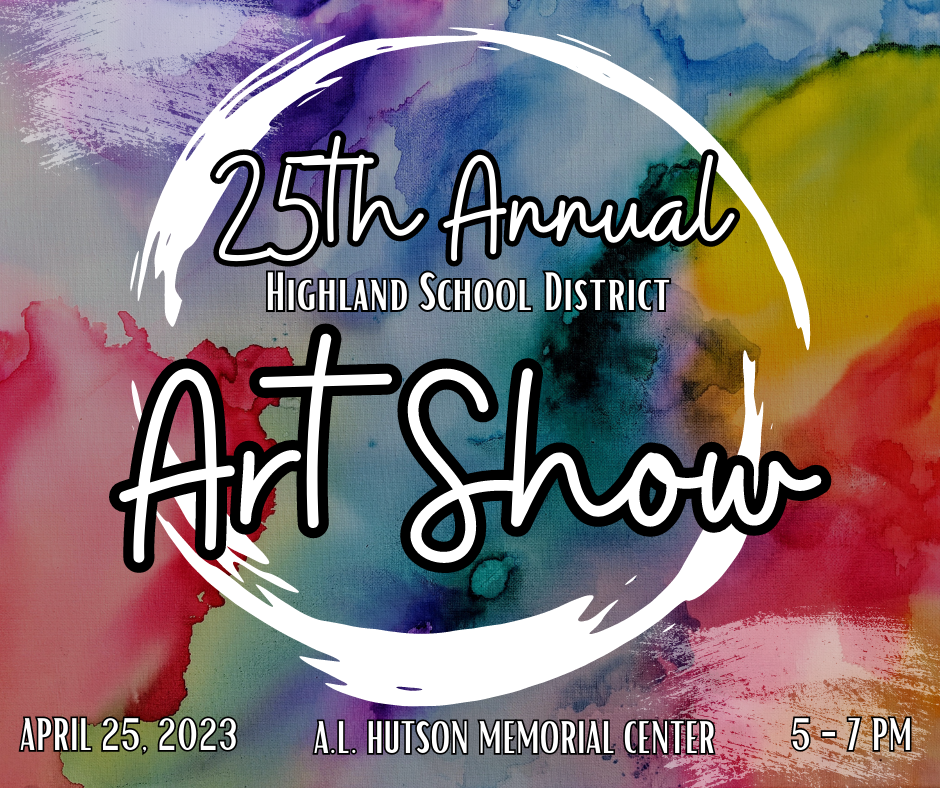 Attention: Any students age 11-16 who are signed up for the upcoming immunization clinic- You will receive a message from the ADH (Arkansas Department of Health) reminding you of your appointment scheduled for Wednesday, April 26, at the Sharp County Health Department. Please DISREGARD the location; the clinic will be at the school, not the health department.

It's Kindergarten registration time!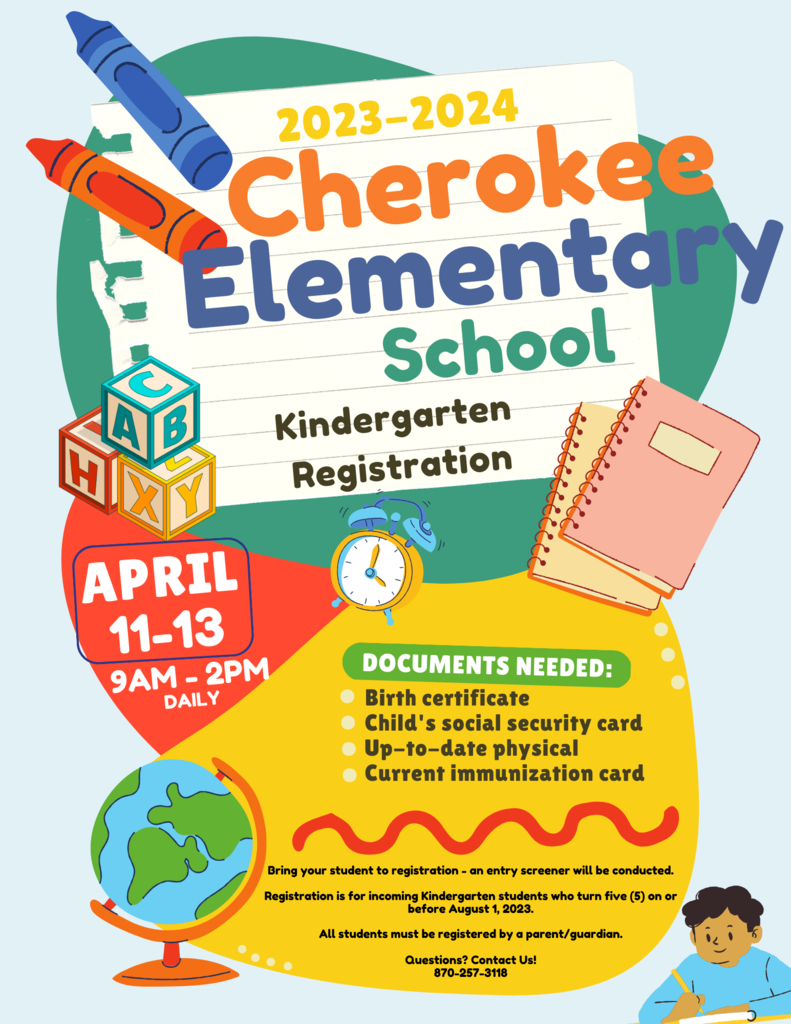 There will be no after-school tutoring at HMS on Thursday, March 16, due to Parent-Teacher conferences.

Mark your calendars!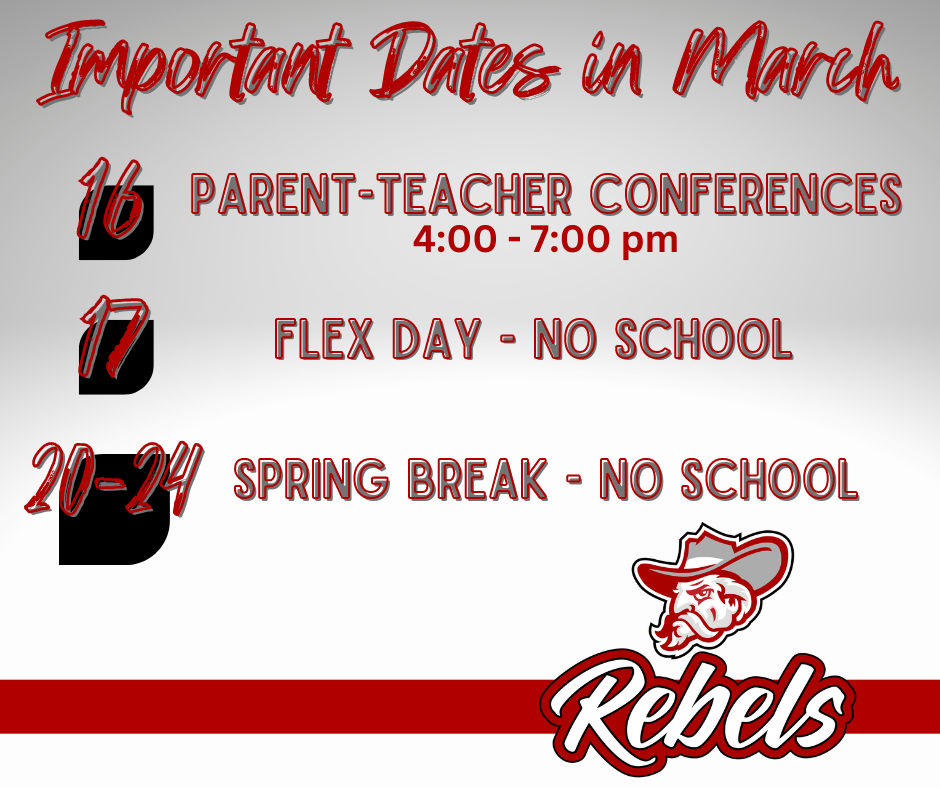 After-school tutoring will be held Tuesday afternoon ONLY this week at Cherokee Elementary - Wednesday afternoon will be canceled. Please call the main office at 870-257-3118 if you have any questions.

The band concert will take place as scheduled this Sunday afternoon (March 5) at 2:30 pm at the A.L. Hutson Center. Make plans to attend! Info for band students: Students have the same meeting times as announced. Instruments left at the middle school have been collected and will be at the concert.

Due to road conditions throughout the district because of flooding, the Highland School District will be closed on Friday, March 3, 2023. The District will use AMI Day 8. Students and staff should follow AMI plans. Students should contact teachers via email with any questions concerning AMI assignments. For tech issues- please contact the tech department at
tech@highlandrebels.org
, or 870-856-3275, option 4.

Highland Schools will not be in session on Friday, February 17 & Monday, February 20, in observance of winter break and Presidents Day.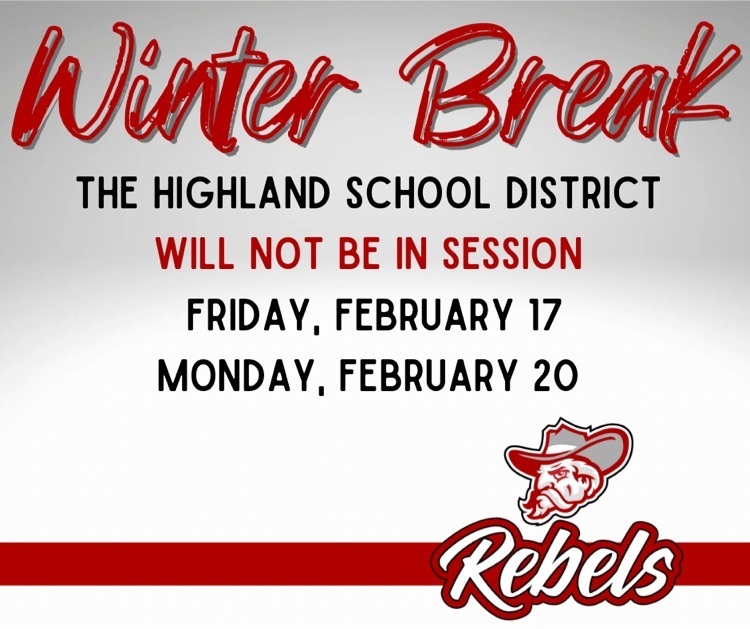 Senior Parents: It's time for your SENIOR to start filling out scholarships! Mrs. Kelly Mahaffey has been notifying students of those available, and Mrs. Misti Carter has been helping spread the word as well in her YOUPath classes. Please visit with your student about the importance of applying for scholarships and meeting the application deadlines! If you have any questions, please contact Mrs. Mahaffey at:
kelly.mahaffey@highlandrebels.org
or 870-856-3273.

The Cherokee Elementary School Book Fair will take place Tuesday, February 7 - Friday, February 10. Those interested in setting up an EWALLET for their student may follow the directions linked in the video below!
https://bookfairs.scholastic.com/content/fairs/ewallet.html
*remaining balances will not be cashed out at the register. All remaining money in e-wallets will be saved for future purchases (online or future book fairs). Students/parents may shop together before school each morning OR students will also have the opportunity to visit the fair with their teacher/classmates at designated times throughout the week.