EDIT MAIN
Updated Nov 12, 2020
The state did not put out applications for AMI Days this year. We do not know if these will be an option in the 2020-21 school year. We may have a virtual day instead of an AMI day this year.
Updated March 12, 2020
Click here for an ADA compliant version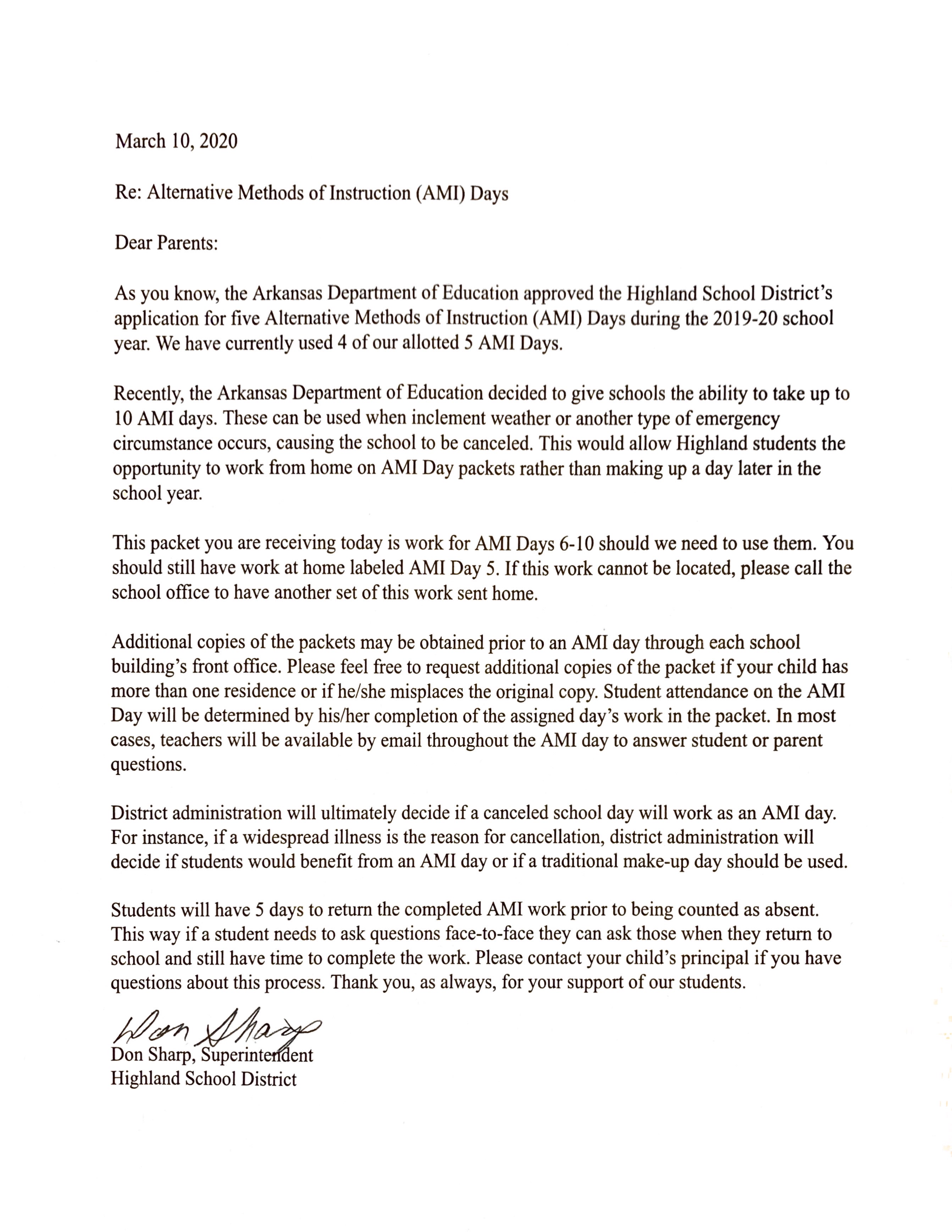 Alternative Methods of Instruction (AMI) Days
The Arkansas Department of Education has approved the Highland School District's application for five Alternative Methods of Instruction (AMI) Days during the 2019-20 school year. If inclement weather or another type of emergency circumstance occurs, causing school to be canceled, Highland students may be given the opportunity to work from home on AMI Day packets rather than making up a day later in the school year.
These packets will be distributed to students quarterly and will contain multiple days of student work labeled Day 1, Day 2, etc.. When an AMI day is called, the school will announce which section of the packet students should work on that day.
AMI Day Example Scenario: If an AMI day is needed due to snow on a Tuesday in January, the district will notify parents that school will not be in session, but an AMI day will be used and that students should complete the work labeled "Day 1" in their current packets. If the snow also prevents students from attending school on Wednesday, the school will notify parents that students should complete the work labeled "Day 2" in their packets on Wednesday. When students return to school following the AMI day(s), the assigned work will be collected and graded by teachers.
Additional copies of the packets may be obtained prior to an AMI day through each school building's front office. Please feel free to request additional copies of the packet if your child has more than one residence or if he/she misplaces the original copy. Student attendance on the AMI Day will be determined by his/her completion of the assigned day's work in the packet. In most cases, teachers will be available by email throughout the AMI day to answer student or parent questions.
District administration will ultimately decide if a canceled school day will work as an AMI day. For instance, if a widespread illness is the reason for cancellation, district administration will decide if students would benefit from an AMI day or if a traditional make-up day should be used.
Students will have 5 days to return the completed AMI work prior to being counted as absent. This way if a student needs to ask questions face-to-face they can ask those when they return to school and still have time to complete the work. Please contact your child's principal if you have questions about this process. Thank you, as always, for your support of our students.